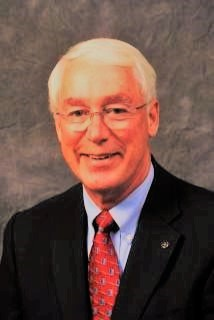 R B Richey
District 7730
District Governor 2017-2018
Wilmington, NC
Email: rbdg7730.17.18@gmail.
RB was born January 15, 1942 in Miami, Florida.
Following high school graduation in Louisville, Kentucky, he graduated from the United States Naval Academy in Annapolis, Maryland with a major in Systems Engineering and served in engineering positions aboard nuclear submarines and as a nuclear submarine repair superintendent at the Charleston Naval Shipyard in South Carolina. After completing active duty, RB received a Master of Science degree in Industrial Administration from Purdue University, West Lafayette, Indiana and began working in commercial nuclear power with Babcock & Wilcox (B&W) in Lynchburg, Virginia.
While at B&W, he served as operations manager for their nuclear fuel plant near Lynchburg, Virginia and as co-managing director of Babcock Brown-Boveri Espana (BBE), a joint venture in Madrid that marketed nuclear power plants in Israel, Egypt, and Iran in response to President Nixon's foreign policy initiative, discontinued three years later by President Carter. RB then became general manager of a profit center near Akron, Ohio that provided repair services and replacement materials for B&W's nuclear and fossil plants.
Five years later, RB moved to North Carolina to join Carolina Power & Light Company (CP&L, now Duke Energy) in Raleigh, North Carolina. During his years at CP&L, RB served as Vice President at both the Harris Nuclear Plant in New Hill, NC, and the Brunswick Nuclear Plant in Southport, NC. He later worked as a lobbyist with the U.S. Council for Energy Awareness in Washington, DC to carry out provisions of the Energy Policy Act of 1992.
RB started his utility consulting practice based on contacts while in Washington. He focused on nuclear plant management training and on radioactive waste management at Department of Energy nuclear weapons sites. His last consulting engagement was in Morgan City, Louisiana where he spent $10 million of municipal bonds over four years to upgrade the city's power plant, electric distribution system, water treatment plant and wastewater treatment plant. He first joined Rotary at the Morgan City club where he became a Paul Harris Fellow and club director.
In Wilmington since 2005, RB became active in the Rotary Club of Wilmington, as a volunteer Guardian ad Litem, and as a member of the UNCW Cameron Business School's Executive Network. From July 2007 through July 2015, he implemented and led the state's first Nuclear Technology program at Cape Fear Community College to support the needs of GE-Hitachi and Duke Energy.
Since serving as club president in 2010-11, RB has served the District as a Foundation Advocate and Assistant Governor. He is a Major Donor, Paul Harris Society member and Rotary Leadership Institute graduate and faculty member.
RB and his wife Lynn live in Hampstead, where they spend time with a combined family of four sons, one daughter and nine grandchildren who all live in North Carolina.